I want to share one good news with you all. Finally, my tourist visa for Canada got approved and I am back from Vacations. And in this article, I want to share my experience with you about how I got my Canadian Temporary Resident Visa (TRV). I will be sharing the complete process and what documents I submitted with the application. I submitted my application for the Canada tourist visa at the VFS New Delhi office and the experience was good.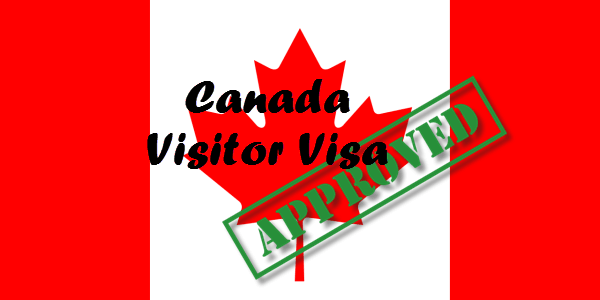 If you are a first time visitor to Canada as a tourist, student, or for business, you may have a problem in filling your application form, collecting all the documents, and many other things. I too had many questions in my mind before filling the application for a Canadian tourist visa and do not want to hire any tourist or visa consultant but the internet helped me a lot in clearing my doubts. There are many good forums and websites which have valuable information for free.
I applied under "Visiting family or friends" category as I have to visit my brother who has a PR status in Canada and he gave me the invitation letter. An invitation letter is very important if someone is calling you to Canada.
So, if you have made your mind to visit Canada as a tourist then, first of all, determine your eligibility to visit Canada.You can visit CIC website for it.
If you found eligible to visit Canada as per the above eligibility test, you can apply for the visa.
You can apply for a Canadian tourist visa in 2 ways. First via online application and the second through an offline form by visiting embassy or VFS office in your area. VFS is the best option if you are applying offline and I haven't found anyone going to the Canadian embassy themselves for a visa.
I applied for visitor visa through offline method via VFS Global as I don't have enough time and online process generally takes a long time [that is what I have heard]. An offline process takes around 10 business days or 2 weeks. You can get full information about Visitor Visa (Temporary Resident Visa – TRV) for Canada at CIC website.
Note: Current processing time from India is 44 days.
Don't forget to include Niagara Falls in your day to day plan, as it is one of the most famous tourist places in Canada, and without seeing it your trip is incomplete. Check the below video and you would know yourself.
My Documents List for Canadian Tourist Visa
I included many documents along with the application form to make sure I am in a good position to get Canada visitor visa. Below are the documents which I included for your reference. You can include other documents too which are suitable and can make your application stronger.
1. Document Checklist [IMM 5558]
2. Application for Temporary Resident Visa [IMM 5257]
3. Family Information [IMM 5645]
4. A Bonafide letter from my company stating that they don't have any problem and my leaves are approved. The letter should be on official letterhead and signed by your HR. Include an original letter not duplicate.
5. Income tax returns for the past 3 years, though 2 years ITR are sufficient as per the CIC website.
6. Bank statements for the past 6 months showing I have enough money for my stay in Canada and I have money to return back.
7. Letter of invitation from the person inviting you (from my brother) indicating the purpose and duration of the visit.
8. Family details of the person inviting you. Also include their passport number and citizenship.
9. My brother and his family PR card photocopy.
10. My brother's job offer letter, Notice of Assessments (NOA) and pay slips.
11. I also included my marriage and my child's birth certificate. This is for showing my strong relationship with my home country.
12. Detailed itinerary and purpose of visit.
13. Round trip air tickets.
14. Proof of previous travel. I included the photostat of my Japan visa and landing stamp.
15. My stocks (shares) statement.
16. Medical insurance for the period of my stay with $100,000 coverage. This I booked with an Indian insurance company as it is cheaper depending upon the number of days you stay in Canada.
17. Last but not the least, do write a cover letter supporting your application and submit it.
Check Different Letter Formats for Canada Tourist Visa (TRV)
I applied in June 2015 and since then, I can see there is a new form or instruction booklet added in the document list for Canadian tourist visa called Visa office instructions – Visit [IMM 5881], which has mainly documented checklist for Temporary Resident Visa (TRV). I am very glad to see that CIC has made a very good list of documents and removed all the confusion which the applicant can have. Do download it.
Note: I would like to thank my brother for helping me collecting the required documents and clearing my doubts wherever needed.
Tips for Canada Temporary Resident Visa – TRV
Below are few tips which I would like to share with you if you are thinking to apply for Canadian tourist visa.
1. Make a list of documents that you need for applying.
2. Collect all the information needed to fill in your application.
3. Fill out the required application forms as applicable to you.
4. Always give correct information on your application forms.
5. If possible, book your flight tickets in advance and include them with the application. It really makes a very big difference and make your application stronger.
6. Medical insurance is also good if you are going to Canada.
7. Do get your application checked by someone else [Very important]. I made one mistake in my main application and will share what I did to correct it in the next post.
8. Make visa officer believe that you are going to return back and have sufficient funds for stay by giving correct information. Don't FAKE anything else you may be banned for a visa.
9. Do include your cover letter with the application stating why you want to go to Canada and in that letter show your strong relationship with the home country.
After submitting all the documents I got multiple entry Canada visitor visas till the validity of my passport which is 5 years.
Fees of Canada Temporary Resident Visa or Tourist visa
Current fees of Canadian temporary resident visa (TRV) is $100 (CAD). This fee is same for single entry and multiple entry visa. By default you will get multiple-entry Canadian visitor visa.
There is no option to select whether you are applying for a single entry or multiple entry visa now. Earlier the fees of a single entry and multiple entries were different and you also get the option to choose for what type of visa you are applying.
Hope you get some valuable information from my experience and would submit your tourist visa application with more confidence. If you have any doubts about filling your Canadian tourist visa application do let me know through comments or email and I will try to help in the best possible way but remember, I am not a tourist visa expert. Good Luck!!