Are you planning a trip to Canada? Whether you're visiting for business, leisure, or exploring the country's natural beauty, it's essential to have the right protection in place. Canada Travel insurance for visitors provides peace of mind and financial security in case of unexpected events during your trip.
In this article, we will explore the importance of Canada travel insurance for visitors, the different types available, coverage options, factors to consider when choosing a policy, and the top insurance providers in Canada.
So, let's dive in!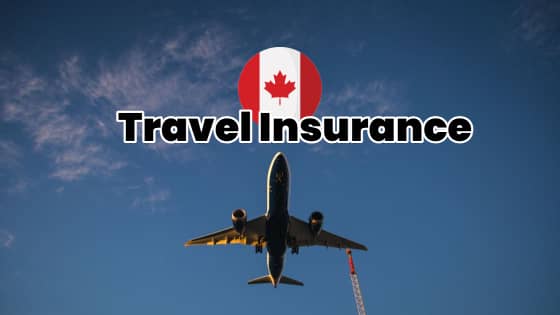 Table of Contents
Travel insurance acts as a safety net, protecting travelers from unforeseen circumstances that can disrupt or derail their plans. It offers coverage for a range of risks, including medical emergencies, trip cancellations, lost luggage, and more.
When visiting Canada, having travel insurance becomes even more crucial due to the country's high healthcare costs and unpredictable weather conditions.
What is Canada Travel Insurance for Visitors?
Canada travel insurance for visitors is designed specifically for visitors coming to Canada from other countries. It provides coverage for various travel-related risks, ensuring that visitors are protected financially if anything goes wrong during their stay.
It offers peace of mind and helps mitigate the financial burden that can arise from unforeseen events.
Why is Travel Insurance Important?
Travel insurance is essential for several reasons. Firstly, it provides medical coverage in case of illness or injury during your trip.
Canada has an excellent healthcare system, but it can be costly for visitors. With travel insurance, you won't have to worry about paying exorbitant medical bills if you need medical attention.
Secondly, travel insurance offers protection against trip cancellations or interruptions. If your trip is canceled or cut short due to unforeseen circumstances such as a family emergency or severe weather, travel insurance can reimburse you for the non-refundable expenses you've already incurred.
Thirdly, travel insurance covers lost or delayed baggage. If your luggage gets lost or delayed during transit, travel insurance can provide compensation to help you replace essential items and minimize inconvenience.
Types of Travel Insurance
When it comes to Canada travel insurance, there are various types to choose from, depending on your needs. The most common types include:
1. Medical Insurance
Medical insurance provides coverage for medical emergencies and healthcare expenses while you're in Canada.
It includes doctor visits, hospitalization, emergency medical evacuation, and prescription medications. This type of insurance is particularly important as healthcare costs in Canada can be high for visitors.
So if you are calling your siblings, parents, or spouse to Canada, do not forget to book their medical insurance.
2. Trip Cancellation/Interruption Insurance
Trip cancellation or interruption insurance reimburses you for non-refundable expenses if your trip gets canceled or cut short due to unforeseen circumstances. It typically covers expenses such as airfare, accommodation, and prepaid activities.
3. Baggage Insurance
Baggage insurance offers protection in case your luggage gets lost, stolen, or damaged during your trip. It provides compensation to replace essential items and helps cover the cost of temporary necessities while you wait for your baggage to be returned.
You can also get baggage insurance from your Credit card provider if you have booked a ticket to Canada using them.
4. Visitor to Canada Insurance
A Visitor to Canada insurance is specifically designed for tourists and visitors coming to Canada. It provides comprehensive coverage for medical emergencies, trip cancellations, baggage loss, and other travel-related risks.
5. Personal Liability
Personal liability coverage protects you if you cause injury or damage to others during your trip. It covers legal expenses and compensation for third-party claims against you.
Benefits of Canada Travel Insurance
Canada travel insurance offers several benefits, including:
Peace of mind: With travel insurance, you can enjoy your trip to Canada with peace of mind, knowing that you are protected from unexpected situations that may arise.
Financial Security: Travel insurance provides financial security by covering the costs of medical emergencies, trip cancellations, and lost baggage. It helps you avoid significant financial losses due to unforeseen circumstances during your trip.
Emergency Assistance: Canada travel insurance often includes 24/7 emergency assistance services. In case of an emergency, you can contact the insurance provider's helpline for immediate support and guidance, ensuring you receive the necessary help promptly.
Travel Support: Some travel insurance policies offer additional benefits such as travel support services. These services can assist you in making travel arrangements, finding accommodation, or providing information about local attractions and activities.
Peace of Mind for Loved Ones: Having travel insurance also provides peace of mind for your loved ones back home. They know that you are protected and well-taken care of in case of any unforeseen events during your trip.
Factors to Consider
When choosing Canada travel insurance, it's essential to consider the following factors:
Coverage Limits: Check the coverage limits and ensure they are sufficient to cover potential expenses during your trip. Pay attention to specific coverage limits for medical expenses, trip cancellation, and baggage loss.
Pre-Existing Conditions: If you have any pre-existing medical conditions, make sure the insurance policy covers them or offers optional coverage for pre-existing conditions.
Exclusions: Review the policy exclusions to understand what is not covered. Common exclusions include high-risk activities, certain medical conditions, and acts of war or terrorism.
Deductibles: Determine the deductible amount you are comfortable with. A deductible is the portion of the claim that you are responsible for before the insurance coverage kicks in.
Claim Process: Understand the claim process and requirements. Check if the insurance provider has a straightforward and efficient claims procedure, preferably with online claim submission options.
How to Choose the Right Travel Insurance
Choosing the right Canada travel insurance requires careful consideration. Here are some steps to help you make an informed decision:
Assess Your Needs: Determine the specific coverage you require based on your travel plans, activities, and personal circumstances.
Compare Multiple Providers: Obtain quotes and compare the coverage options, premiums, deductibles, and customer reviews from different insurance providers. Look for reputable companies with a track record of excellent customer service.
Read the Policy: Carefully read the policy documents, including the fine print, to understand the coverage, exclusions, limits, and claim procedures. Ensure that the policy meets your requirements.
Seek Expert Advice: If you are unsure about certain aspects of travel insurance or need clarification, consider consulting an insurance agent or seek advice from experienced travelers.
Purchase in Advance: Purchasing travel insurance soon after booking your trip is advisable. Some coverage benefits may have waiting periods, and purchasing early ensures you are protected from unforeseen events that may occur before your departure.
Top Insurance Providers in Canada
When it comes to Canada travel insurance, several insurance providers offer reliable coverage options.
Some of the top insurance providers in Canada include:
Manulife Financial: Manulife offers a range of travel insurance options tailored for different types of travelers, including visitors to Canada.
BCAA: BCAA provides comprehensive coverage for visitors to Canada, including medical expenses, trip cancellations, and baggage loss.
Travel Guard: Travel Guard offers customizable travel insurance plans with various coverage options, including emergency medical coverage for visitors to Canada.
Allianz Global Assistance: Allianz offers travel insurance plans that cater to the specific needs of visitors to Canada, ensuring comprehensive coverage during their stay.
TD Insurance: TD Insurance provides travel insurance options for visitors to Canada, offering coverage for medical emergencies, trip cancellation, and baggage loss.
Frequently Asked Questions
1. Is travel insurance mandatory for visitors to Canada?
No, travel insurance is not mandatory for visitors to Canada, but it is highly recommended to protect yourself from potential financial burdens due to unforeseen events.
2. Does my existing health insurance cover me while traveling to Canada?
It depends on your existing health insurance policy. Check with your insurance provider to understand the extent of coverage during international travel.
3. What happens if I need medical assistance in Canada without travel insurance?
Without travel insurance, you would be responsible for covering the medical expenses out of pocket, which can be costly in Canada.
4. Can I purchase travel insurance after arriving in Canada?
It is advisable to purchase travel insurance before your trip. However, some insurance providers may offer options for coverage after arrival, although it is subject to specific conditions.
5. Are pre-existing medical conditions covered by Canada travel insurance?
It depends on the insurance provider and the policy. Some insurance companies offer coverage for pre-existing conditions, while others may have exclusions or require additional premiums.
Conclusion
Canada travel insurance for visitors is a vital investment for visitors coming to Canada. It provides financial protection, peace of mind, and assistance during unforeseen events, ensuring a worry-free trip.
By considering the coverage options, factors to consider, and choosing the right insurance provider, you can enjoy your time in Canada with confidence, knowing that you are protected. So, don't forget to secure your travel insurance before embarking on your journey to Canada!