Red Hat has made its enterprise level server Red Hat Enterprise Linux (RHEL) 7.4 available for public on 1st August 2017 and now it comes with some of the major security and performance improvements. RHEL 7.4 is now more secure and more robust.
If you are a Red Hat fan then I am sure you must be excited to know more about the latest features and enhancement of this release.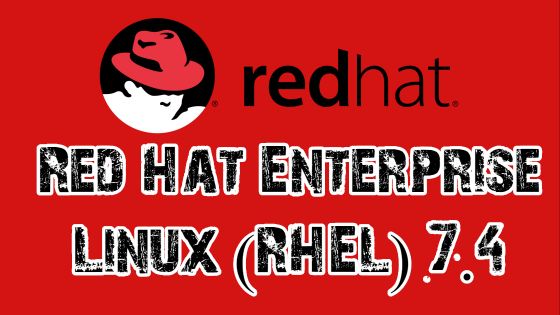 Latest features and updates of RHEL 7.4
Below are the latest addition and improvement in security, kernel, identity management, storage, networking, container, Docker, etc.
Network Bound Disk Encryption (NBDE) support is introduced in RHEL 7.4, which allows the system administrator to encrypt root volumes of hard drives on bare metal machines without requiring to manually enter password when systems are rebooted.
Implementation of USBGuard software framework which provides system protection against intrusive USB devices.
Support for resuming interrupted uploads in SFTP and support for a new fingerprint type that uses the SHA-256 algorithm.
Cryptographic protocols and algorithms that are considered insecure have been deprecated.
Format for Showing Finance and property
SSSD in a container is now fully supported.
Users are now able to install new Identity Management servers, replicas, and clients on systems with FIPS mode enabled.
LVM provides full support for RAID takeover.
Admins can now enable SELinux support for containers while using OverlayFS with Docker.
NFS over RDMA (NFSoRDMA) server is now fully supported when accessed by Red Hat Enterprise Linux clients.
LiveFS is also introduced which enables users to install security updates and layer packages without a reboot.
Full support for high availability features like Clufter, QDevice, Booth.
Elastic Network Adapter (ENA) is now supported in this release due to which user get enhanced networking capabilities when running on the Amazon Web Services (AWS) cloud.
RHEL 7.4 now includes Red Hat Enterprise Linux System Roles powered by Ansible (Automation tool).
Apart from above features and updates, there are many other features on this release and also many notable bugs are fixed in this release and also known issues. Please visit Red Hat official site given below on the source link for detail features and enhancement.
Do let me know what you think about this latest release of Red Hat Enterprise Linux through your comments.
Source: https://access.redhat.com/documentation/en-US/Red_Hat_Enterprise_Linux/7/html/7.4_Release_Notes/chap-Red_Hat_Enterprise_Linux-7.4_Release_Notes-Overview.html