Natural disasters are sudden events which are caused by the natural forces of the Earth. Though we cannot completely avoid them, but I am sure we can mitigate its effect with the help of science. If you are a developer, who loves to code and concern about natural calamities, do read this article completely and know about the IBM's initiative "Call for Code".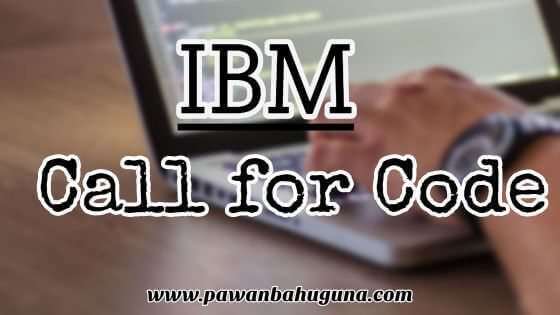 In the past, we have seen lots of casualties and loss of property due to natural disasters. Last few years have seen worst natural disasters like flood, earthquake, or hurricane. Thus IBM has launched a global campaign called "Call for Code", which inspire the developers to solve pressing global problems with sustainable software solutions.
According to me, this is the ultimate chance to show your coding skills and do something for your society. Also, it is a great initiative by technology giant IBM and we need more such kind of initiatives to deal with natural disasters and more companies/institution should join hand for such great causes.
I would urge you to participate in this "Call for Code" competition and also spread the word about it. Now, let's discuss more about it in detail.
Just to start, please check the intro video below.
What is Call for Code?
As told above, Call for Code is IBM's global content and in this developers have to create applications in IBM cloud that can improve disaster preparedness, build resilient communities, and safeguard the health and well-being of individuals and institutions.
Apart from IBM, the founding partner, this initiative is supported by "The Linux Foundation", American Red Cross, The UN Human Rights, AngelHack, The Cloud Native Computing Foundation (CNCF), and New Enterprise Associates, Inc. (NEA).
To begin with, developers can start with resources in these six technology areas.
Build secure, resilient, traceable, and transparent supply networks with blockchain.
Use AI and bots to improve real-time communications with natural language processing.
Understand, analyze, and predict health and nutrition needs to improve services with data science.
Improve logistics based on traffic and weather activity to reduce the number of people affected.
Collect and analyze device sensor data to take corrective or preventative action automatically.
Use machine learning, deep learning, and visual recognition to improve critical processes.
Coders can use any language or technology to create their application. Each team and an individual can also take advantage of IBM's code library, and get some inspiration to start their own application. You can expect examples to use Weather company, Watson AI, and Blockchain services on the IBM Cloud to build cognitive, social, and analytics applications.
Also, developers have to use IBM Cloud services in their solutions to be eligible for "Call for code".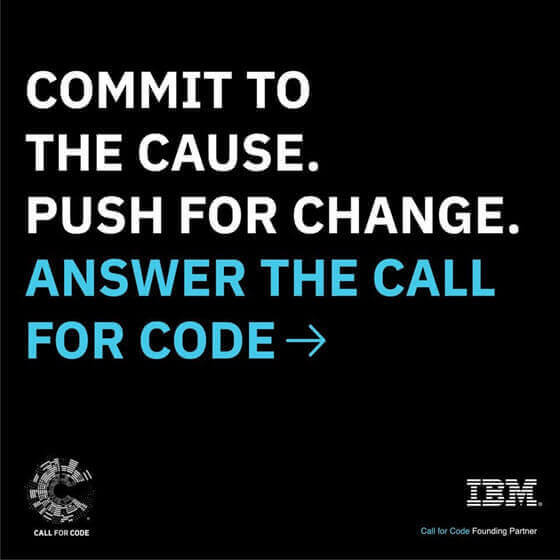 Call for Code Prizes
The winner of this global challenge will receive $200,000 USD cash prize in a Call for Code award event presented by a jury of eminent technologists. Additional, winner will also get long-term open source project support from The Linux Foundation, opportunity to convert your idea into a funded company and the opportunity to deploy your solution with an IBM Corporate Service Corps team. So, don't wait and register now.
The first and second runner-up will also get $25,000 USD cash prize, an invitation to the Call for Code global prize event, and long-term open source project support from The Linux Foundation.
The winners of this competition will be announced at the Call for Code Global Prize Event and Concert, which will benefit UN Human Rights and the American Red Cross, and be held on October 13th, the United Nations International Day for Disaster Reduction.
Call for Code Schedule
May 24, 2018: Pre-Registration opens using the contest platform powered by AngelHack. You're welcome to begin getting comfortable with the selected technology – see below for more information.
May through August: Satellite events will run around the world to echo and amplify the Call for Code Global Challenge. These events may have self-contained competitions, possibly focused on one of the 6 technology areas below, and developers who participate are encouraged to join the Call for Code Global Challenge.
June 18: Coding begins. After agreeing to the Participation Agreement you'll be invited into our Slack group to begin forming teams and learn more about the event. IBM developer advocates will be online as well to answer any questions you may have.
August 31: All submissions must be submitted by August 31, 2018 at 11:59 PM PT.
September 17: Semi-finalists will be judged by leaders from IBM, AngelHack, DCC, the United Nations Human Rights Office, the American Red Cross, and other Affiliates.
September 24: Finalists will be judged by the jury of eminent technologists. This panel will then determine the 3 overall winning teams of the competition.
October 13: The Call for Code Global Prize winner will be announced at an event and benefit concert.
Call for Code Rules
* All submissions must be deployed and run on the IBM Cloud.
* All submissions must make use of at least 5 IBM Cloud services. Use of sponsor or affiliate APIs is also encouraged.
* Teams of up to 5 participants, each at least 18 years old, are allowed.
* All team members must have completed the Participation Agreement to compete.
* A participant may not be part of multiple teams.
* Winning teams will be subject to a code-review after submissions close on August 31.
* Overall rights of first refusal to invest in projects will be outlined in Participant Agreement.
---
I am sure, you might have found this article helpful and if you are a developer, you will join this competition and will make some killer application which can benefit mankind. Do let me know if you have any doubts or questions about "Code for Call" challenge and do not forget to register and build your application on IBM cloud.