From many days after we published our article on RHEL 7 books for RHSCA and RHCE, we are getting many queries for RHEL 7 syllabus. Though the syllabus is available in detail at the Red Hat official website, but some aspirants are having the problem in finding the right web link, so I am posting it for you in this article with the link to the Red Hat official website.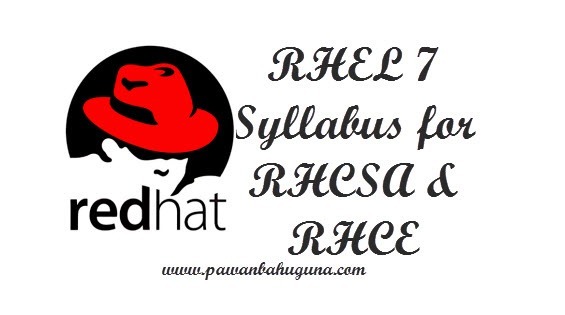 Red Hat® Certified System Administrator (RHCSA) Syllabus for RHEL 7
According to Red Hat, a certified system administrator (RHCSA) should be able to perform the below task without any issue.
Understand and use essential tools for handling files, directories, command-line environments, and documentation.
Operate running systems, including booting into different run levels, identifying processes, starting and stopping virtual machines, and controlling services.
Configure local storage using partitions and logical volumes.
Create and configure file systems and file system attributes, such as permissions, encryption, access control lists, and network file systems.
Deploy, configure, and maintain systems, including software installation, update, and core services.
Manage users and groups, including use of a centralized directory for authentication.
Manage security, including basic firewall and SELinux configuration.
Above are the 7 topics for RHCSA exam (EX200) which a candidate should know if he/she is appearing for the exam. Full details of RHCSA 7 objectives can be found at official Red hat RHCSA syllabus page.
Timing of RHCSA 7 Exam: This is a practical exam with time duration of 2.5 hours. No internet access is provided during the exam.
Earlier, RHCSA 6 exam used to be only 2 hours long.
Recommended Article: RHEL 7: Practice Papers for RHCSA & RHCE Exam
Red Hat® Certified Engineer (RHCE) Syllabus for RHEL 7
If you want to be RHCE, you must fulfill all the objectives of RHCSA, which are above and should also know the below topics.
Configuring static routes, packet filtering, and network address translation.
Setting kernel runtime parameters.
Configuring an Internet Small Computer System Interface (iSCSI) initiator.
Producing and delivering reports on system utilization.
Using shell scripting to automate system maintenance tasks.
Configuring system logging, including remote logging.
Configuring a system to provide networking services, including HTTP/HTTPS, File Transfer Protocol (FTP), network file system (NFS), server message block (SMB), Simple Mail Transfer Protocol (SMTP), secure shell (SSH) and Network Time Protocol (NTP).
These were the objectives for RHCE exam (EX300) and like RHCSA syllabus, they do also have sub topics which can be checked at official Red hat RHCE syllabus page.
Timing of RHCE 7 Exam: This is a practical exam with time duration of 3.5 hours. No internet access is provided during the exam.
Earlier, RHCE 6 exam used to be only 2.5 hours.
There are many significant differences in RHEL 6 and RHEL 7 syllabus for RHCSA and RHCE. Many new topics are added in RHEL 7 syllabus and exam time has been also increased.
In the RHCSA exam, now you will have to start and stop service using systemctl command. RHCE 7 objective now has an additional topic for Database services, where you will have to Install and configure MariaDB, backup and restore a database, create a simple database schema and perform simple SQL queries against a database.
I will try to make the tutorial for MariaDB, whenever I get the time and will surely help in resolving your basic queries. If you have any feedback and suggestion do leave your comment.